Elevation can provide you with a variety of bagging scales.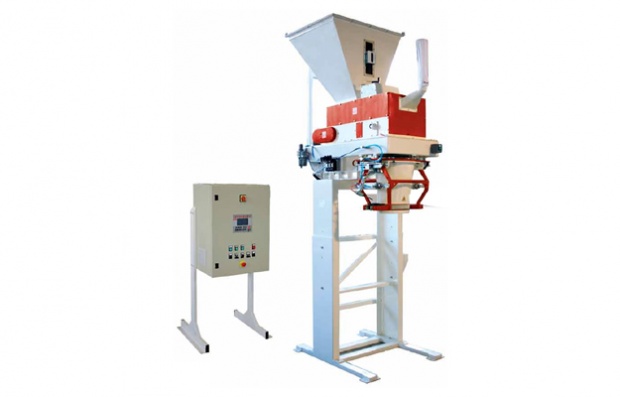 COMPACT DESIGN
AVAILABLE WITH FOLLOWING EXECUTIONS, SS304 OR SS316 PRODUCT CONTACT PARTS, FOR AGGRESSIVE PRODUCTS & ENVIRONMENT, FOR SUGAR APPLICATION
AVAILABLE IN 2 SIZES, 5 – 25 KG OR 25 – 100 KG
CAPACITY UP TO 6 BAGS/MIN
RS-485, PROFIBUS DP OR DIGITAL COMMUNICATION INTERFACES
USER FRIENDLY OPERATOR INTERFACE
AUTOMATIC ZERO SETTING AFTER EACH BAG (net weigh system working principle)
COMPLETED WITH HEAVY DUTY SUPPORT PEDASTAL
GRAVITY FFEDER: for dosing of free-flowing materials, such as SALT, Dense soda ash, plastic granules, granular fertilizer, grain, rice, sugar, semolina, etc.
BELT FEEDER: for dosing of non-free-flowing materials which need to be handled carefully to maintain their structure, such as animal feed, pellets , potatoes flakes, etc.
TURBINE FEEDER: mainly used for cereal flour bagging.
SINGLE SCREW FEEDER: for dosing of powdery materials such as light soda ash, flours, feed pre-mixes, milk powders, minerals, etc.
The electronic Gross-Weight packer mod. GW has been designed to pack, in open mouth bags granular or floury products. Thanks to its short dimensions can be placed every where also when the room available is really very small.
The careful design, the use of two SINGLE POINT load cells and a sophisticated electronics on board, assure high precision and reliability. Each GW model is also equipped with FR unit (Air pressure regulation).
Depending on the products characteristics FOUR models are available. Those differ each other for the feeding type.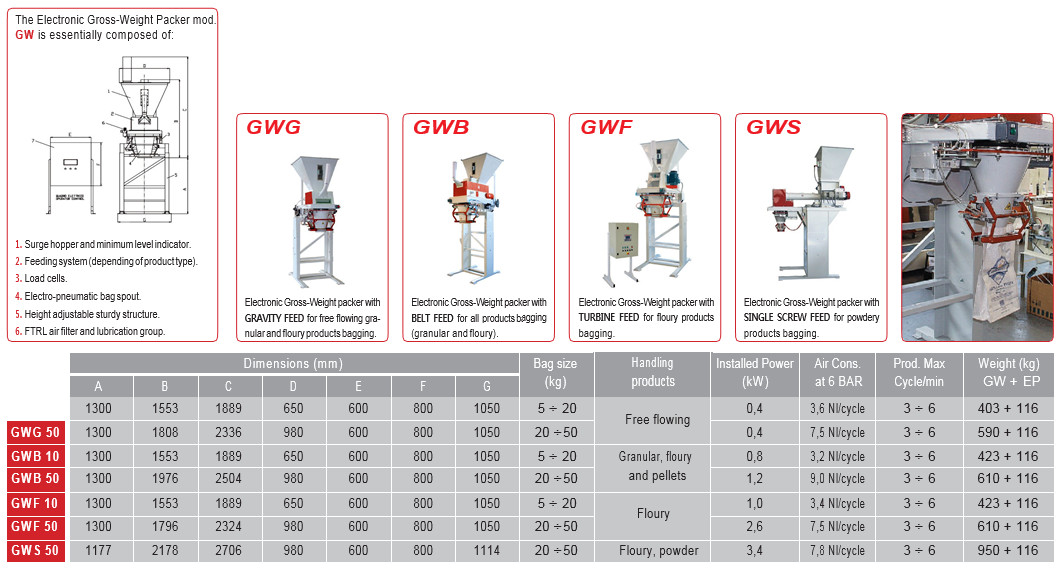 Net Weight Carousel Bagging System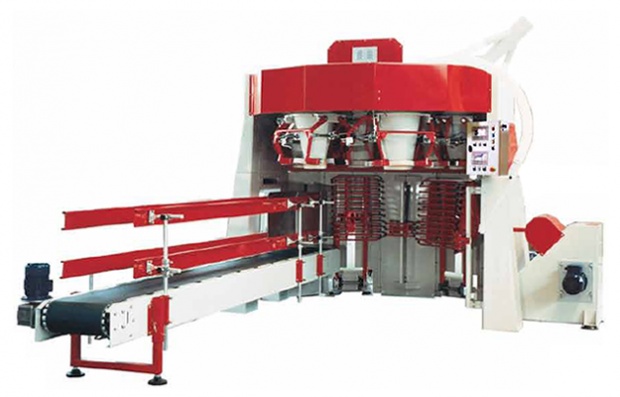 SEVERAL FEEDING DEVICE AVAILABLE DEPENDING ON PRODUCT TO BE HANDLED (Gravity, Belt, single or double screw, turbine)
SEVERAL BAG CLOSING SYSTEM AVAILABLE (sewing, heat sealing, pinch, gluing, etc.)
SS304 PRODUCT CONTACT PARTS EXECUTION AVAILABLE
CAPACITY UP TO 20 BAGS/MIN
BOTTOM SWEEPER AVAILABLE
MOD-BUS, RS-485, PROFIBUS DP OR DIGITAL COMMUNICATION INTERFACES
USER FRIENDLY OPERATOR INTERFACE
AVAILABLE IN SIMPLEX, DUPLEX OR TRIPLEX BAGGING SCALES EXECUTION
AVAILABLE IN 4 OR 6 SPOUTS EXECUTION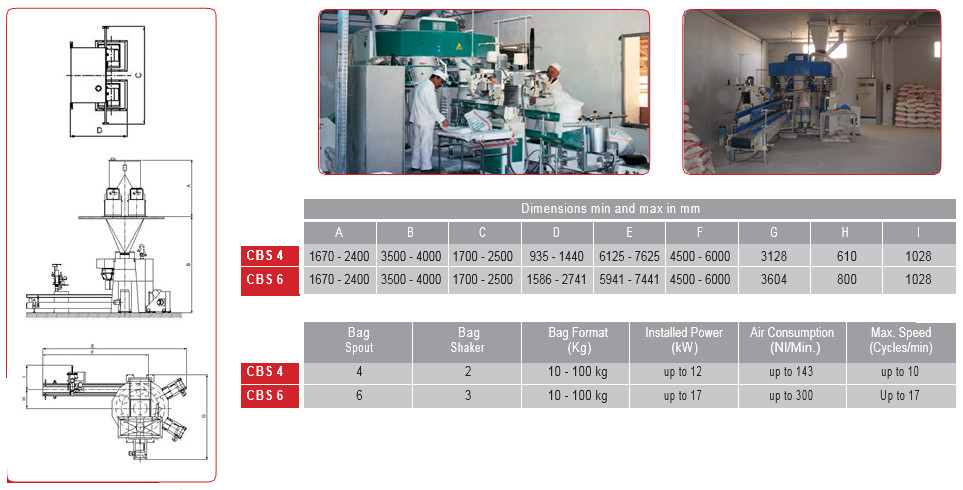 Single Spout Net Weight Bagging System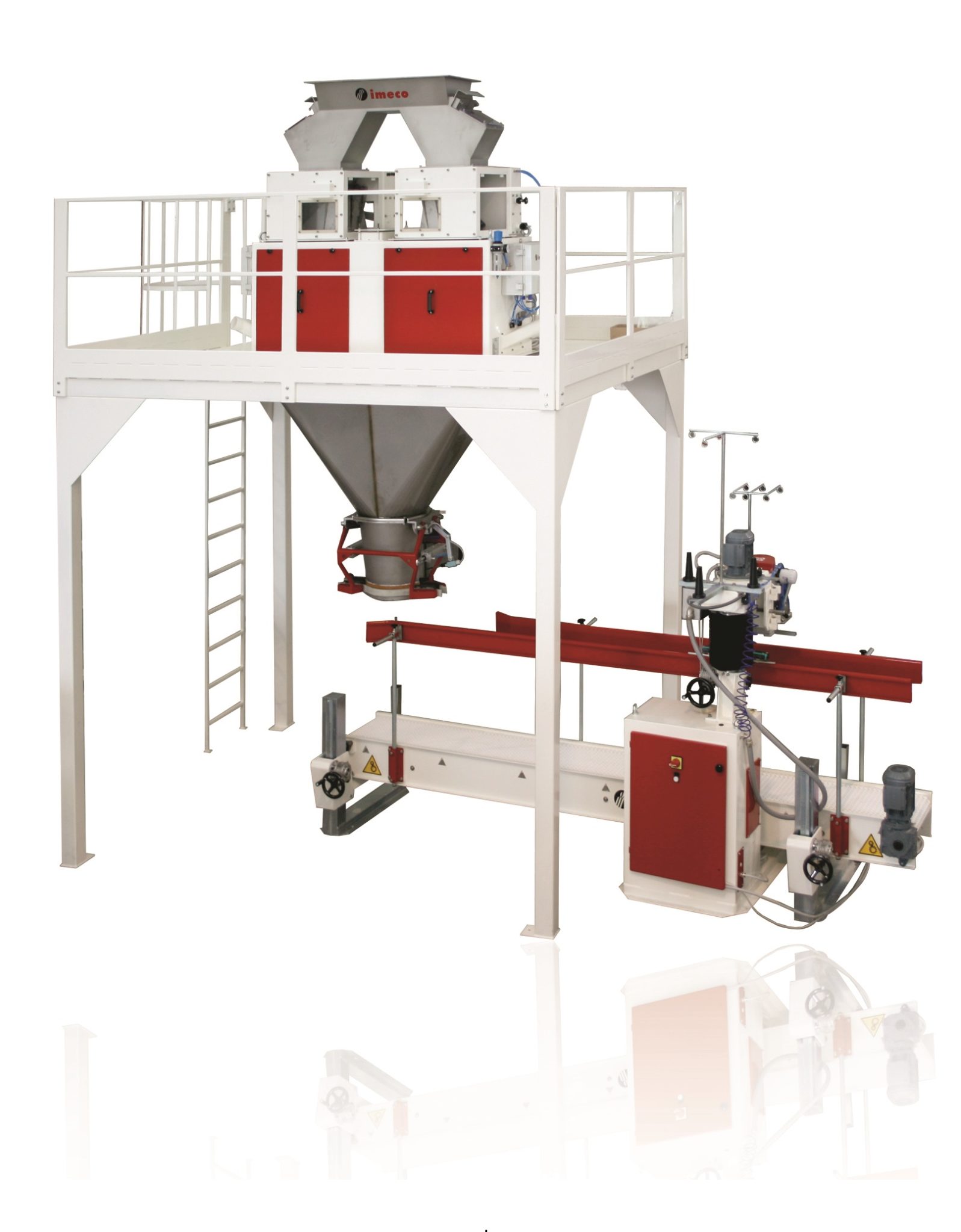 SEVERAL FEEDING DEVICE AVAILABLE DEPENDING ON PRODUCT TO BE HANDLED (Gravity, Belt, single or double screw, turbine)
SEVERAL BAG CLOSING SYSTEM AVAILABLE (sewing, heat sealing, pinch, gluing, etc.)
AVAILABLE WITH FOLLOWING EXECUTIONS, SS304 OR SS316 PRODUCT CONTACT PARTS, FOR AGGRESSIVE PRODUCTS & ENVIRONMENT, FOR SUGAR APPLICATION
CAPACITY UP TO 22 BPM/MIN (capacity depends on product, line configuration, bag sizes, operator skills, etc.)
RS-485, PROFIBUS DP OR DIGITAL COMMUNICATION INTERFACES
USER FRIENDLY OPERATOR INTERFACE
USER FRIENDLY OPERATOR INTERFACE
QUICK BAG SIZE CHANGE OVER DEVICE AVAILABLE (Mod. CBR)
AVAILABLE IN SIMPLEX, DUPLEX OR TRIPLEX EXECUTION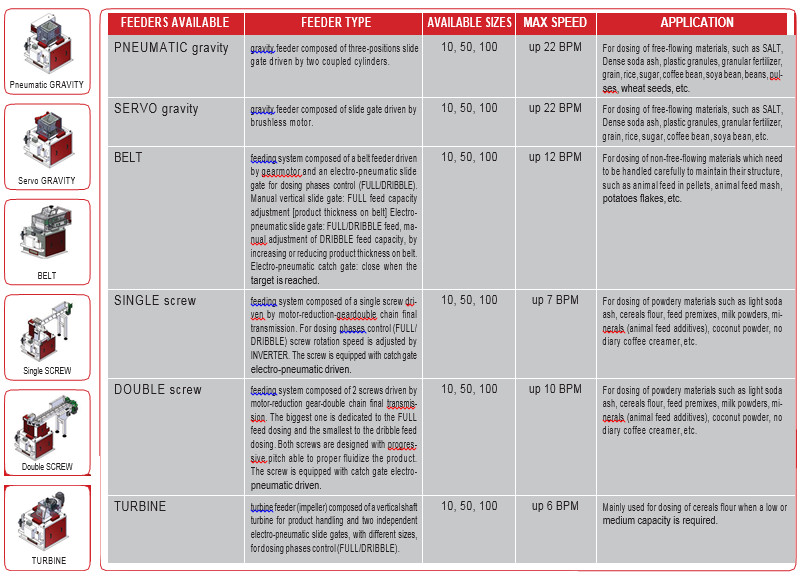 Contact us for a quote or more information.
(402) 999-0827
info@elevationpkg.com