Bulk Bag / FIBC Tote Equipment
Elevation Packaging & Equipment will help design the correct bulk bag filler or unloader for your bag type and dimensions. All of our systems are designed to maximize bag handling production while keeping employees safe.
Our Bulk Filling System includes a product feeder, bag spout, tote support frame, platform scale and all necessary electronic and pneumatic scale controls. The controller will tare each bag and pallet weight and automatically fill with bulk and dribble feeder settings to maximize accuracy and production rates. All bag weight data is stored within the controller and can be exported via a USB thumb drive or Ethernet connection. We offer balloon spouts and annular bladders for powdered products to provide additional dust control and allow the air within the bag to relieve through the outside spout chamber
Please inquire about additional capabilities to use a NW series net weigh bagging scale for filling 50 lb thru 2,200 lb weights on the same bagging line. This is a very popular and inexpensive option if you only require supersack or bulk bag filling for a small portion of your packaging needs.
Options:
RoughDeck Platform Scale
Dust tight spout
Bulk & Dribble Feed Gate
Low Profile Slide Gate
Auto-Tare & Pre Programmed Filling Program
Weight Data to Printer or Communication Port
Hopper
Gravity, Belt, Auger, & Vibratory Pan Feeders
Stainless Steel Frame & Components
Gyrators
---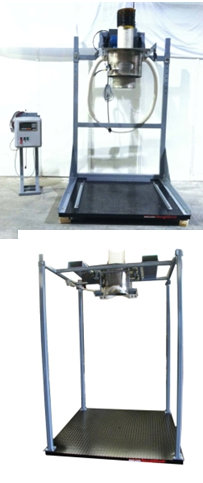 ---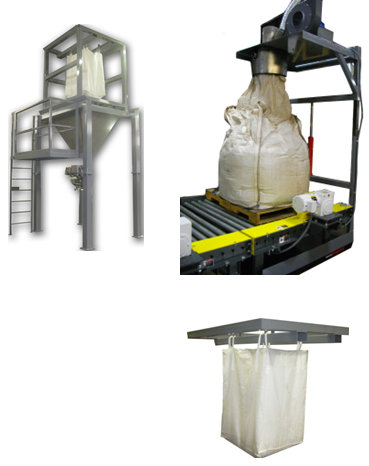 RPS - Big Bag Filling System
Suitable for free flowing and semi free flowing products bagging such as:
Agriculture
[seed, beans, cereal, corn, grass seed, organic pellet fertilizer]
Foods
[wheat, corn, rice, cereals, maize grits, wheat flour, maize flour, maize meal, pollard, pellets, semolina, malt, sugar, salt, coffee]
Animal Feed
[animal feed, mineral feed, concentrated feed]
Inorganic Fertilizer
[urea, TSP, SSP, C.A.N., AN, NPK, rock phosphate]
Petrochemicals
[plastic granules, resin powders, etc.]
Construction materials
[sand, gravel]
Fuels
[coals, wood pellets]
FEATURES:
HEAVY DUTY DESIGN
MANUAL BAG PLACING
SEVERAL FEEDING DEVICE AVAILABLE DEPENDING ON PRODUCT TO BE HANDLED (Gravity, Belt, single or double screw, turbine)
AVAILABLE IN GROSS OR NET WEIGHT EXECUTION
CAPACITY UP TO 30 BAGS/hour (capacity depends on product, line configuration, bag sizes, operator skills, etc.)
AUTOMATIC FILLED BAG DISCHARGE
500 to 1500 Kg FILLING RANGE
SUITABLE FOR 2 OR 4 SUSPENDING LOOPS
RS-485, PROFIBUS DP OR DIGITAL COMMUNICATION INTERFACES
QUICK BAG SIZE CHANGE OVER
OPTIONS
NET WEIGHT EXECUTION FOR CAPACITY UP TO 80 BPH
PLATFORM TYPE EXECUTION FOR LOW PRODUCTION REQUIREMENTS (MANUAL FILLED BAG DISCHARGE)
EMPTY PALLET DISPENSER FOR HIGH LEVEL AUTOMATED SYSTEM
PALLET INLET MOTORIZED ROLLER CONVEYOR
PALLET OUTLET MOTORIZED ROLLER CONVEYOR
STAINLESS STEEL PRODUCT CONTACT PARTS
SPECIAL EXECUTION FOR AGGRESSIVE PRODUCTS AND ENVIRONMENT
DE-DUSTING SYSTEM
SPECIAL EXECUTION FOR SINGLE LOOP BAG
INSUFFLATING SYSTEM FOR AN EASY & QUICK BAG OPENING
AVAILABLE MODELS
| | |
| --- | --- |
| | Platform type "Gross Weight" Filling system This model is suitable for low production rate and for most common products, even those with difficult flow. In this model the weighing part is included in the platform. Normally used for 4 suspenders FIBC with filling sleeve, it can easily be adapted to different FIBC types. Filled bag discharge is usually manual. |
| | "Gross Weight" Filling system with suspended FIBC This model is suitable for medium production rate and for most common products, even those with difficult flow. In this model the weighing part is included in the suspension system. Normally used for 2 or 4 suspenders FIBC with filling sleeve, it can easily be adapted to different FIBC types. |
| | Single spout "Net weight" filling system Ideal for average production rate and for both, free & semi-free flowing products. To reach high production rate, the batch is pre-weighed, up stream e subsequently discharged into the bag. This model is normally suggested for different FIBC types: 4 suspenders square, 2 suspenders square, single suspender square, 2 suspenders rectangular with or without filling sleeve. |
Contact us for a quote or more information.
(402) 999-0827
info@elevationpkg.com