Packaging Solutions to Elevate Your Business
Elevation can meet your packaging solutions needs whether you're looking for Woven Poly, Plastic, Paper & Foil Bags, Eco-Friendly Food Containers & Process Meat Trays, Bulk Packaging or IBC Totes & Super Sacks, we can handle it.
Elevation offers bags for all packaging needs. Whether you need attractive bags for retail, large bags for bulk, or a combination of both we have your solution. We offer custom & stock laminated woven poly, blue tinted food grade box liners, plastic, stand- up pouch, kraft paper, bulk, super sacks, cube shaped, box replacement and nylon bags. We have bags that are industrial, food, and medical grade. We also offer rollstock centerfold film. Whatever your application is we have a bagging solution for you.
---
Bulk Packaging – Stock & Custom Super Sacks IBC Liquid Bulk Tank Totes
Elevation understands needing to move product in bulk. We offer a variety of Super Sacks, Bulk Bags, and IBC Totes for liquid products. Our Super Sacks come in spout top, spout bottom, duffle top, and closed bottom, in whatever combination you can think of. We offer stock bags, custom printed bags, and custom sized bags.
Our Passport IBC liquid bulk tote tanks come in 275 & 330 gallon capacities with steel cages and built in pallets for easy forklift handling. We even have budget friendly refurbished totes that have a reconditioned cage and pallet with a new bottle/tank.
---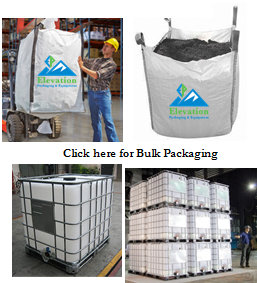 Barrier Rollstock & Lidding Film
Elevation offers a long list of reliable custom bag and film rollstock that will work flawlessly with your machinery. Our form fill & seal rollstock includes film that will run on Hamer machinery, centerfold, FDA approved vacuum and barrier bags. We also offer barrier lidding films that will seal to most surfaces including but not limited to Fiber Molded, PET, RPET, PP, PE, CPET, and APET. Contact us to discuss your application and get pricing.
---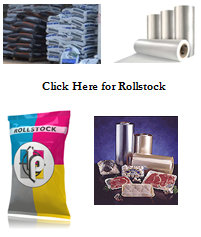 Food Grade Barrier Tote Bag Liners for Vacuum / Gas Flushing Large Format Super Sacks or Totes
Elevation offers Custom Food Grade Bulk Barrier Tote bags with Spout Top / Spout Bottom, Duffel Top / Spout Bottom or just as a large Food Grade Tote Barrier Bag. These are made to accommodate low OTR's thereby turning your Bulk Bags into Barrier Bulk Bags. We can provide these large format Tote bags with Foil Barrier Bag Liners or Nylon / EVOH Barrier bags for Vacuum and Gas Flushing your product to ensure optimal shelf life for your products. Depending on your requirement of Oxygen and/or Moisture Transmission Rates, we customize the Food Grade Bulk Barrier Bags to meet your needs. We also provide New and Used Modified Atmosphere Sealing Equipment with large seal bars that can be mounted overhead for Bulk Bags or as a standalone modular Heat Sealing unit with the option to vacuum and/or gas flush. Click here for more info on the specifics.
---
Contact us for a quote or more information.
(402) 999-0827
info@elevationpkg.com