Cube Bags -The future of Flexible Packaging
Specialty Cube bags are a unique packaging System that helps your product stand out and Stand UP on the shelf and on the Pallet.

How  it works? 
This top view of a Cube bag illustrates its five chambers. Its unique design gives the ability to maintain a "Cube" shape so it will utilize approx. 95% of the cubic area it occupies while providing added protection.
Top View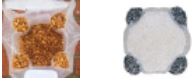 Available in 4 standard CUBE sizes
(Filled Dimensions – Length can vary based on your Product)
6 x 6
8 x 8
9.5 x 9.5
12 x 11
Benefits
Simple Carry Gusset Handle
Easy-Pour Spout
Barrier Film properties available for Food or Pharmaceutical applications
100% Recyclable and Bio-degradable film options are also available
Box replacement
Plastic Pail Replacement
An alternative to stand up or side gusset pouches
Stacks like Boxes, reduction in warehouse space, less forklift movements and fewer trucks for delivery.
Maximized Shipping Capacities due to the Efficiency of the Cube.
Picture on the left – Filled 50lbs Cube Bags of almonds on standard 40" x 48" pallets
Picture on the right – Note the difference in transportation costs: 280 empty boxes vs 280 empty Cube Bags