Elevation offers a wide range of palletizing solutions including automatic palletizers, robotic palletizers, and semi-automatic palletizers.
Robots palletize your product safer, quicker, evenly and they don't call in sick! At Elevation we have extremely competitive pricing when it comes to Robotic Palletizers and End of Arm Tools. The long list of benefits for these units explains why it is the number one growing item in the robotic sector. Our robots can palletize bags, boxes, barrels, spools, and anything else you need to palletize including multiple lines converging into one. Contact us for consultation and a quote on a robot that will elevate your business! Ask about our "Lease to Own Program".
Click Here for Palletizing Videos
---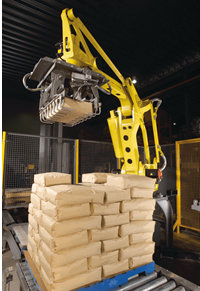 New 5 Axis Kuka Palletizing Robots or Reconditioned Fanuc Robotic Palletizing
Robotic arm Automatic Palletizer suitable for bags, bundles, boxes and cartons

The machine is suitable for the following sectors:
Agriculture [seed, beans, cereal, corn, grass seed, organic pellet fertilizer, etc.]Foods [malt, sugar, salt, flour, semolina, coffee, maize grits, maize meal, etc.]Animal Feed [animal feed, mineral feed, concentrated feed, etc.]Petrochemicals [plastic granules, resin powders, etc.]Construction materials [sand, gravel, etc.]Fuels [coals, wood pellets, etc.]
FEATURES
IDEAL FOR MEDIUM PALLETIZING SPEED, UP TO 1200 BPH [CAPACITY DEPENDS ON BAG SHAPE, LAYER PATTERN, LINE CONFIGURATION, ETC.]
SUITABLE FOR BAG, BUNDLES AND BOXES
IDEAL FOR TIGHT SPACE,
SEVERAL LAY-OUT AVAILABLE DEPENDING ON CUSTOMER AVAILABLE SPACE
BAG FLATTENER
BAGS PICK-UP ROLLER CONVEYOR
AUTOMATIC BAG GRIPPER
AUTOMATIC EMPTY PALLET DISPENSER
TAKE AWAY MOTORIZED ROLLER CONVEYOR
USER FRIENDLY OPERATOR INTERFACE
CAN HANDLE UP TO 4 DIFFERENT BAG SIZES SIMULTANEOUSLY
MAXIMUM LAY-OUT FLEXIBILITY
QUICK BAG SIZE CHANGE OVER
OPTIONS
SQUARE ROLLER FOR A GENTLY PRODUCT DISTRIBUTOR INSIDE THE BAG
AUTOMATIC SLIP SHEET APPLICATOR (FOR PAPER OR PLASTIC SHEET)
LOW COST VERSION WITH PALLET ON FLOOR OPERATION (EMPTY PALLET POSITIONING & FULL PALLET POSITIONING ARE MANUAL]
SPECIAL GRIPPER FOR BUNDLES
---

Lift Assists for Palletizing & Material Handling
Affordable Ergonomic material handling equipment and work stations are profitable alternatives to worker injuries when weights, repetitive movements, working posture or nature of the movement creates injury hazards for the individuals performing these tasks. Ergonomic hazards can result in debilitating injuries, reduced productivity and subsequent loss of work time through rehabilitation. Along with safety concerns, risk management issues are addressed when ergonomic lifts and work stations are applied to the job environment (reduced workers compensation cost, lower EMR ratings, etc.). Our lift assists can be setup to pick up bags, boxes, pales, drums, and almost anything else you need to lift.
Click here for Lift Assist Video
---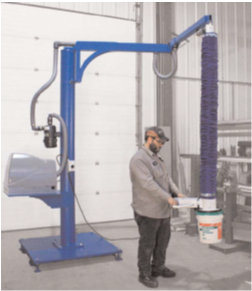 Palletizing Adhesive & Applicators
Elevation offers the best high-quality low cost glue application and dispensing systems for all bags and boxes. Our Adhesive is Environmentally Friendly Reduces or eliminates stretch wrap waste:
FDA approved
Biodegradable
Non-toxic (water-based)
Palletizing Adhesive Can Save You Money
Save up to 50% vs stretch wrap only adhesives
Eliminate the need for costly corner boards
Eliminate the need for tie sheets
Prevent shipment damage
Minimize rejected loads
Minimize damage claims against carriers
labor costs
---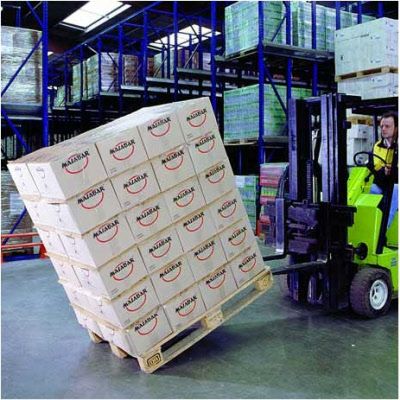 ---
---

Anti-Slip Palletizing Grip Sheet
Utilization of anti-slip sheets is common among companies that take care of the quality of their products as well as their pallets. Elevation offers a grip sheet that preserves your pallets homogenous right from palletizing process to the film stretching area, and then to the reception by the customer.
---
Bishamon Pallet Positioners and Lift Tables
Elevation offers a number of different pallet postitioners and lift tables from one of the most trusted manufacturers in the industry. Our Pallet positioners stay at your programmed level as you stack your pallets making your palletizing a safer and more efficient process.
---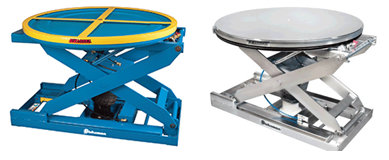 Barrier Rollstock & Lidding Film
Elevation offers a long list of reliable custom bag and film rollstock that will work flawlessly with your machinery. Our form fill & seal rollstock includes film that will run on Hamer machinery, centerfold, FDA approved vacuum and barrier bags. We also offer barrier lidding films that will seal to most surfaces including but not limited to Fiber Molded, PET, RPET, PP, PE, CPET, and APET. Contact us to discuss your application and get pricing.
---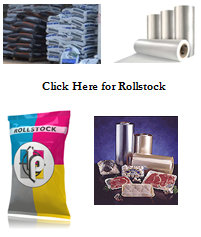 Contact us for a quote or more information.
(402) 999-0827
info@elevationpkg.com