Slider Zipper Bag Sealer / Pactiv Zipper Bag Sealer
Elevation offers an automatic Slider Zipper Bag Sealer or sometimes referred to as Pactiv Zipper Bag Sealer. This Continuous Band Sealer is specifically manufactured to address the challenges of bag sealing equipment for Slider Zipper bags or Pactiv Zipper Bags.

The Sealer is setup in such a way that it will weld the opposing side of Slider Zipper Bags or Pactiv Zipper Bags.

Please click here to send us an inquiry or feel free to contact us to discuss.
---
Dual Zone Continuous Band Sealer
For cube bags, standard coextruded polyethylene bags, slider zipper bags or pactiv zipper bags (must specify bag).
Continuous band sealer consists of 2 sets of 8" heat bars and 1 set of 8" cool bars
Right to left or left to right controls setup
Sealing speed: Up to 8p fpm Heat Bars: 4pcs. 8" long
With Options:
Spares Parts Kit
10 sets of sealing bands
1 carrier belt
1 thermocouple
1 heat element
1 SSR
1 temp controller
10 felts (to clean bands)
Physical:
Weight: 850 pounds
Length: 69"
Width: 36"
Seal Hight: 36" to 58"
Syntegon (Formerly Bosch Packaging Technology) Band Sealers
Band Sealers are able to seal wide range of heat sealable films. Although used primarily for soft films (polyethylenes), also known as unsupported films, they can be used on certain hard films (supported or high density films such as polypropylene) and specialty films. Band sealer speeds are considerably faster than intermittent types of sealing and perform well on various bag styles including gusseted.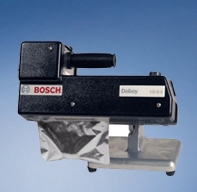 ---
Doboy HS-CII – Portable continuous band sealer
Seals most soft films. An exceptional value for a bag sealer that delivers consistent high quality seals for a wide variety of product packaging.
Cooling bar for immediate handling
Seals most polyethelynes and vinyl 1-6 mil
Can be used free hand if required.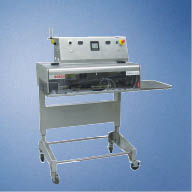 ---
Syntegon / Bosch CBS B-550 / CBS-D 750 Mid-Range Continuous Band Sealer
The B-550 band sealer provides industrial performance at an economic price. Built to the same high standards as our larger machines, the B-550 features a robust AC motor drive and heat sealing system that precisely seals a wide range of bag materials and formats at high speeds. A full range of styles and options allow you to configure the B-550 to meet your specific needs.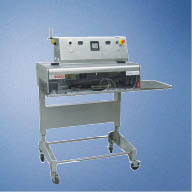 ---
B-550 M Mid-Range Medical Pouch Sealer
Designed to meet the medical packaging industry validation requirements for sanitary and sterile applications, the B-550M medical sealer regulates and displays temperature, pressure, and speed. The result is a secure, hermetic seal essential for medical pouches and other sanitary packaging. With all Bosch medical heat sealers, support is provided for qualification and validation.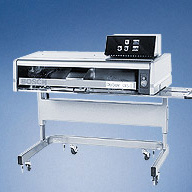 ---
Syntegon / Bosch CBS-D 1500 High-Quality Continuous Band sealer
The Doboy CBS-D is a high-quality continuous band sealer intended for multiple packaging shift applications or where package sealing requirements are more demanding. The CBS-D has 15″ of heating bar length and provides continuous heat sealing capacity up to 1200″/minute. Other outstanding sealer features include tool less band changing and single point heating and cooling bar adjustment, thermally isolated heat and cool bars, digital temperature controls, and rugged plate and tubing construction. A wide variety of heat sealer options are available from coders to bag top trimmers. The CBS-D continuous heat sealer is available in right to left and left to right configurations and both horizontal and vertical bag presentations.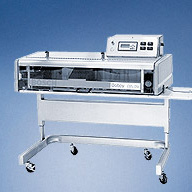 ---
CBS-D 750M and CBS-D 1500M High Speed Medical Grade Continuous Band Sealer
The CBS-D 750M comes standard with one pair of thermostatically controlled, 7.5" (190mm) long, precision machined aluminum heat bars coated with a super hard (57 Rockwell™) surface. The heat bars are designed to self-adjust to remain in contact with the top of the bag. J-Wire thermocouples are surface mounted on the heat bars. Each heat bar also has an external temperature port for temperature verification without stopping the sealer to take a surface reading from the bar.
Also standard is one set of compression wheels and a 5.5" (140mm) long pair of cooling bars. The cooling bars are cooled via an ambient air fan and covered with a stainless steel shroud. Standard seal width is ¼" (6mm).
All sealing components are pneumatically controlled to provide optimal process control. If the sealing pressure drops below a factory pre-set value of 18 PSI, the sealer will generate a fault message, stop the sealer or reverse direction of travel. Sealing pressure in excess of 18 PSI is controlled, but not monitored.
The CBS-D 750M is equipped with one pair of PTFE-coated, fiberglass sealing bands which protect the bag during the sealing process and help transfer the heat to the seal area of the pouch. These bands can be changed out in less than 5 minutes without the use of any tools. Sealing band life depends on many factors and variables.
The CBS-D 1500M comes standard with two pairs of thermostatically controlled, 7.5" (190mm) long, precision machined aluminum heat bars coated with a super hard (57 Rockwell™) surface and two pairs of PTFE-coated, fiberglass sealing bands.
The CBS-D 750M and CBS-D 1500M are supplied with stainless steel guards, top cover and electrical enclosure. The standard floor stand will be *304 stainless steel. All non-painted parts will be plated.
Machine Speed
The CBS-D 750M is equipped with a 1/3 horsepower A.C. drive motor with variable speed capacity of 300 to 1,000 inches per minute (7.5m – 25m per minute). Speed is digitally controlled and monitored via an encoder. A high and low speed range can be programmed in the operator interface. If there is deviation from this range the sealer will generate a fault message, stop the sealer or reverse direction of travel.
---
Bosch Woven Poly Bag Sealing
Woven polypropylene bags have been used as an alternative to burlap or paper bags for many years and have been typically closed with sewing machines. Sewn bag tops contain holes which are an avenue for infestation an moisture to enter the bag contents. Bosch recognizes that this has long been an industry problem. Building on over 70 years of industry experience, Bosch now offers three machines designed to seal woven polypropylene bags. Double fold and glue, double fold and tape or conventional heat seal. Each style is unique and exciting. Click on the icons below to discover which method best suites your application.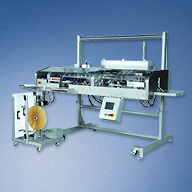 ---
TFT Produces a Double Fold and tape closure at High Speed
The TFT Sealer trims, folds and tapes to provide a sturdy seal on woven poly bag material. Designed to package bulk products with a high integrity sealing method, the TFT operates up to 150 FPM. Applications include fertilizers, resins, titanium dioxide, garden products, agricultural chemicals and many others. The TFT has been constructed to provide many years of efficient production in even the toughest environments.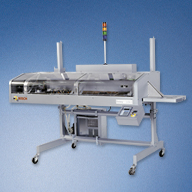 ---
S-CH Series Heat Seal Gauges up to 8 mil. Gusseted
The S-CH Series Sealers are designed to seal bags containing bulk products at speeds of up to 100 FPM. Gauges up to 8 mil gusseted can be used. Applications include fertilizers, resigns, titanium dioxide, garden products, agricultural chemicals, pet foods and many others. Additionally, the S-CH is can be used to seal heat sealable woven polypropylene bags. The S-CH has been constructed to provide many years of efficient production in even the toughest environments.
Glue Sealers are intended to seal paper bags. We offer two fold styles: A double loop fold and a triple or square top fold. These two fold styles provide a secure closure and prevent product sifting. The double fold produces a strong sift-proof closure that is popular for a wide variety of consumer products.

Glue Sealers offer high speed closing and are typically incorporated into a fully automatic bag liner. Speeds up to 100 bags per minute are obtainable.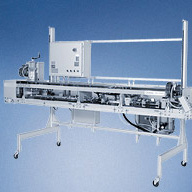 ---
GS-1000S Double Fold Glue Sealer for High-Speed Production
Bosch's most advanced bag gluer, the GS-1000, is the logical choice when high-speed packaging production is required. With sealing capacity of up to 75 bags per minute, the GS-1000 is ideal for any automatic packaging line. The GS-1000 features a patented sealer folder design that is virtually jam proof. The fully adjustable folders are spring-loaded and manufactured from plate steel for rugged dependability.
---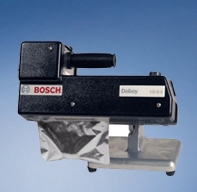 ---
HS-BII Portable Rotary Sealer, Seals Foil, Mil Material, Cellophane, and paper laminates
The HS-BII Rotary Sealer dependably seals supported films such as cellophane, glassine and paper laminates. The timing belt assures positive grip of material for clean, attractive closure. The HS-BII-V provides continuous sealing, quiet operation and is a variable speed unit from 0 to 250 inches per minute.
---
Bosch Pinch Style Sealers
Pinch Style Sealers close multiwall paper bags with product weights from 20-100 lbs. A pinch style bag features a stepped end to expose the plies of a multiwall bag. Hot melt is pre-applies by the bag manufacturer. The final closure involves reactivation of the hot melt and folding the stepped end over to bond with the face of the bag. PInchs style bags may also feature a separate inner liner that is heat sealed in addition to the pinch closure. This results in a hermetically sealed bag and is commonly used in toxic products that are hydroscopic.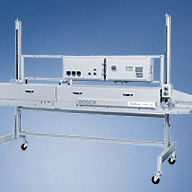 ---
HDPT Inner Liner Sealing to Complete a Standard
The HDPT is a pinch style bag closer designed to seal an inner bag liner and complete a standard pinch closure, providing the most secure bag closure available. The Standard HDPT 40 bag closer will meet most packaging production requirements. When higher product packaging speeds are necessary, the HDPT 56 pinch closer fills those needs. The HDPT Cap Sac system provides a special "bag within a bag" particularly suitable for powdered milk products.
---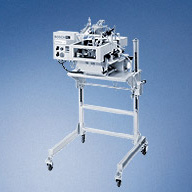 ---
JSL Semi-Automatic Bag Top Labeler for Labeling of Product Header Cards
The Doboy JSL Labeler heat seals a paper header label to the top of a premade bag. With labeling speeds up to 30 bags per minute, it's perfect labeling machine for many packaging applications. Labeler label widths and folds are adjustable to fit a wide range of bag packaging needs. Standard or custom hole punch locations and styles are available.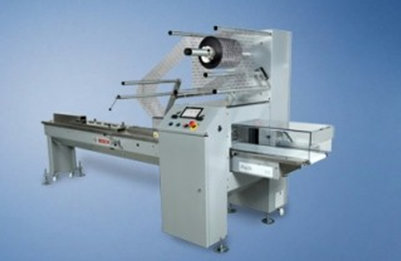 ---
Pack 101 Flow Wrapper – Speeds up to 150 packages/min.
The Pack 101 horizontal flow wrapper is an entry-level wrapper that offers the widest product size range currently available on a flow wrapper in its class. It replaces Bosch's former entry-level wrapper, the Doboy Stratus, and offers improved flexibility and user friendliness. It is ideal for small- to mid-sized businesses needing a flexible solution that accommodates multiple products.

The all-electronic control of the Pack 101 wrapper's motors and drives, enables quick and easy setup and changeovers, reduces product and film waste during production, and offers low maintenance costs. It shares production-proven technology applied on Bosch's higher-end flow wrappers. This flow wrapper furthermore reduces spare parts inventory and lowers the total costs of ownership for customers who wish to scale up with Bosch's Pack series flow wrappers. Local manufacturing in the USA ensures speedy delivery and a fast service response. to customers in North and Latin America.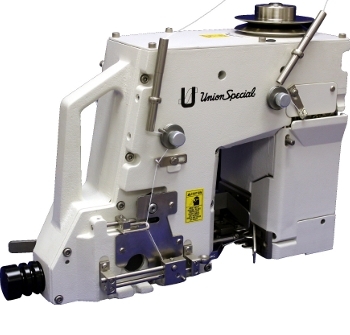 ---
Union Special BC200 Series
Plain & Tape Sew BC200 Series- 85ft/min - Fastest on market- Only TOTALLY enclosed machine on the market!- Low Noise and Vibration due to rotary shaft and straight needle design- Self-lubricating oil system- Corrosion resistant plating on external parts- Low thread tension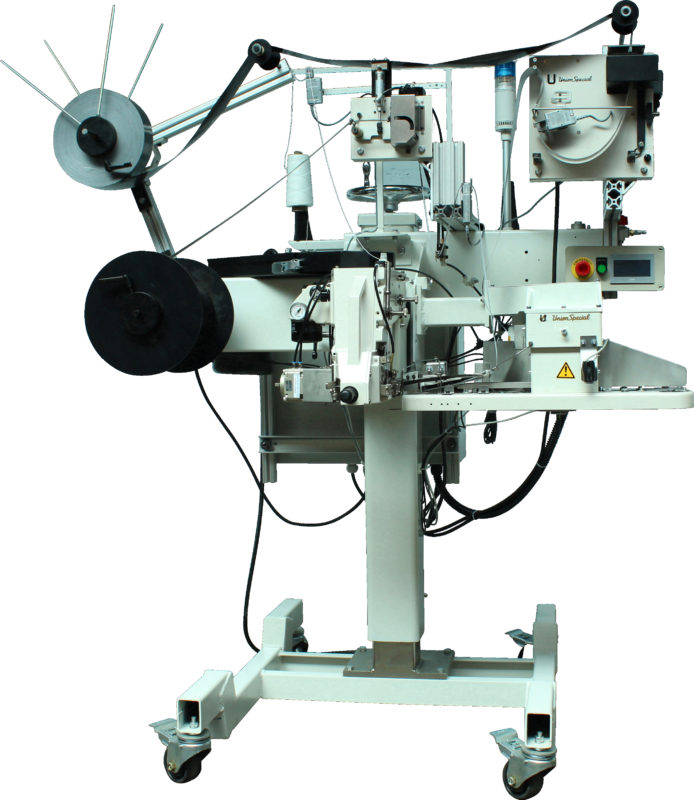 ---
Union Special Bag Closing Systems – US400 Universal
Universal Sewing System for Tape or Plain Sew
BC211U__ series head with Guillotine Cutter
PLC controls for start/stop and controlling tail length
Heavy Duty Steel Pedestal equipped with Casters so its moveable.
Fast! up to 75 ft/min
Significant Tape Reduction with use of Guillotine Cutter
Optional VFD on Sewing Head and Infeed
Optional Tape Pre-Feeder for PP Tape or Higher Speeds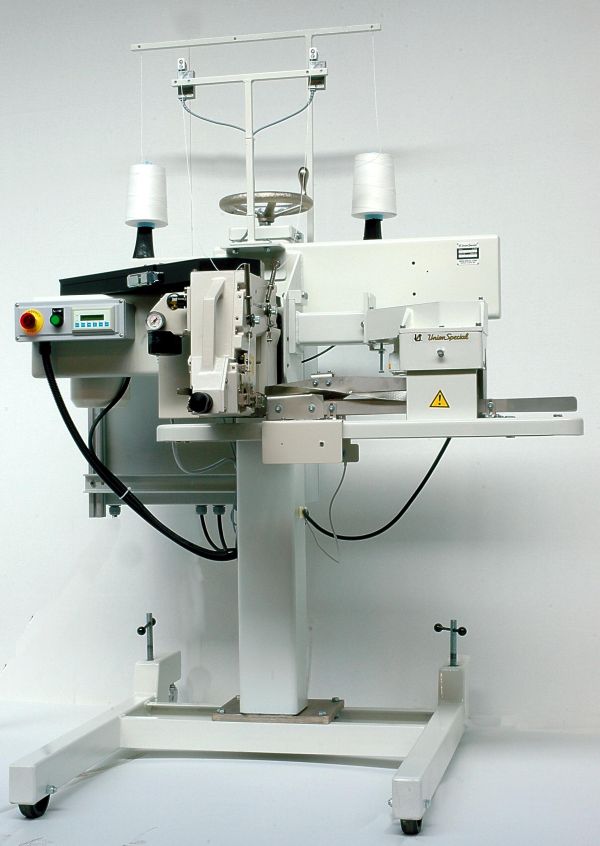 ---
Union Special US400 Fold and Sew Bag Closing System
Plain Sew Closure
BC211P__ series head with Jump-Out scissors for cutting chain
Available with optional Fold-over kit
PLC controls for start/stop and controlling tail length
Heavy Duty Steel Pedestal equipped with Casters so its moveable.
Fast! up to 75 ft/min
Optional VFD on Sewing Head and Infeed
Optional Tape Pre-Feeder for PP Tape or Higher Speeds
Contact us for a quote or more information.
(402) 999-0827
info@elevationpkg.com