KUKA KR Titan Palletizing Application
Fanuc Robotic Palletizers
If you are looking to automate your Bagging or Manufacturing process, we can help.
Whether it is upgrading an existing Robot with a new Touchscreen and Easy Pick Recipes, or utilizing one of our standard Robotic Palletizing space saving cells, or maybe you need a mobile Robot for CNC Tending, we can help customize and integrate into existing equipment.
We offer many Robotic solutions and feel that Kuka provides the widest range of Robots from small Collaborative Robot (LBR iiwa Series) to Kuka Palletizing Robots including the very fast 5 axis Kuka KR 40 and KR120 Robots. Our Robot options also include virtually every Fanuc model from the R2000i and M-900i models to the very fast M410 4 axis Fanuc palletizing Robots. We have been able to design Robot systems that require very little space and are affordable. We can provide refurbished Robots with our own custom End of Arm Tooling that we build in-house and that fits within your budget. We have several videos below showing a variety of systems in action. Each Automatic Palletizing System has the ability to expand off of one of several base Robot cell designs.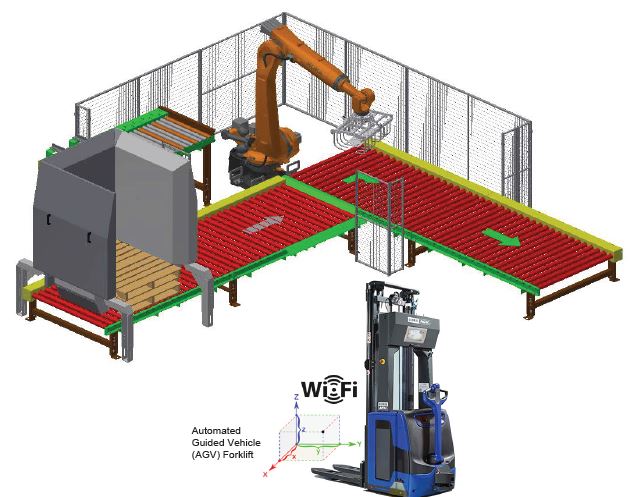 We would love to hear about your project and work with you and your company! Feel free to call with any questions: (402) 999-0827
Let's work together to design the right system for you!
Or, there are a few quick questions that would allow us to work up a Proposal for budgetary purposes
Robotic Palletizing Cell with Auto Feed Pallet Magazine
Automatic Palletizing with Safety Light Curtain Access
Robot Palletizing Wire Spools
Increase Bags per Minute with Tandem Tool
Standard Clam Shell End of Arm Tool with Pallet Conveyors
Robot Cell with Tandem Tool and Pallet Conveyors
Robotic Palletizing with Dual Tandem End of Arm Tool
Dual Tandem End of Arm Tool - Overhead View
Robotic Palletizing: 5 axis Kuka KR120 Robot
Robotic Palletizing: 5 axis Kuka KR120 Robot
Contact us for a quote or more information.
(402) 999-0827
info@elevationpkg.com